Launching the "Love the Earth" ID. Buzz
For the past few years, Dr. Bob and Laura have had the pleasure of working with Volkswagen to bring the message of the Light Bus across the country. This year brought another level of opportunity with VW commissioning Dr. Bob to design an art car of the new electric microbus, the ID.Buzz, for the U.S. launch of the vehicle. The concept was "Love the Earth." This idea has been in Dr. Bob's head for the past few years – inspired by the Earth Day poster he did back in 1972. It would feature 25 languages as an embodiment of his oft-cited phrase "One People, One Planet."
We appreciate Volkswagen's initiative to move in a direction that will actively reduce fuel emissions that pollute the air, soil, and water – and that's not even getting to the contribution to rising global temperatures. While this poses a threat to all of us, it can especially be seen in poor communities where access to high-quality food, clean water, and even things like proximity to highways become a disruption to quality of life. Going electric is a move in the right direction but of course, we recognize it's not as simple as that!  Issues related to battery waste and ethical sourcing persist. But resolving these issues is a part of the path forward – not a reason to go back. It's our hope that VW will be a leader in developing electronic transportation that is truly sustainable and healthy for all people around the world.
One of the shining moments of the trip was discovering the "Love the Earth" Buzz sitting right outside of the hotel. All of the international folks arriving with Volkswagen were among the first to set eyes on this design. Seeing it in person was much more impactful than looking at the concept designs, as beautiful as they were, from graphic designer Tim Wygal on a computer! Thank you again to Spencer Hale and Will Gock at VW for help bringing the design to life. Dr. Bob conceived of the idea in 2019, so to see it in person in 2023 was a powerful reminder that often things take time, meditation, and outside help to come to fruition.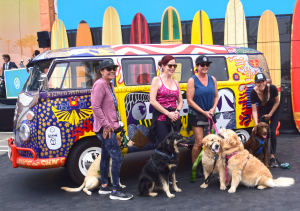 We spent the next two days in a whirlwind of interviews and chatting with new and old friends (and a flurry of dogs!). On the first day while watching the event set-up, two VW CEOs, Pablo Di Si and Thomas Schafer, along with the ID.Buzz designer Klaus Zyciora, came over to say hi to Dr. Bob. They were excited to see the man who created the iconic Light Bus – which was sitting right in front of the main stage. Any average person might have felt nervous talking to these high-status people, but for Dr. Bob it never really seems to matter. A friend is a friend. He greeted them with the same warmth and welcoming nature with which he greets the cleaning staff.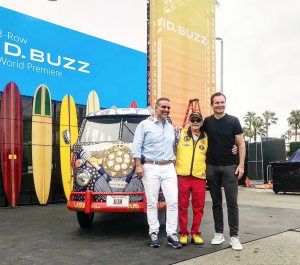 Speaking of, it's always interesting to see the way Bob seems to connect with the "underdogs" in these sorts of places. He'll be surrounded by all sorts of photo opportunities and end up spending the time having a deep philosophical conversation with a security guard or a kid. It's often these people who seem most engaged with the "Prayer, Meditation, Service" message.
Christian Schleuter, who we met back at the Amelia in Florida, drove us into the Octo VW Show in Long Beach in the "Love the Earth" Buzz. It was quite the red-carpet entrance!  Folks were excited to see an electric VW, and many recognized Dr. Bob from the 2019 Octo where the restored Light Bus made its debut. Again, Bob is not the kind to care much about status and fame but it was heartwarming to see him receive such enthusiastic acknowledgment. People weren't reacting only to him as an individual, but the years of work and focus he's put into serving others through his teachings about elevation of consciousness, human unity, and respect for the planet we live on. As the VW Emcee said of Dr. Bob from the event stage, "Let's hear it for Dr. Bob, staying true to his message for five decades and counting."  
Many thanks are due to the excellent VW Staff – they're truly all wonderful, groovy, low key, friendly, welcoming, and efficient people that always take good care of Dr. Bob at these events. And to our friends who were there and the ones who couldn't make it – we thank you for the warm support!   Biggest thanks of all to Dr. Zohara Meyerhoff Hieronimus for her ongoing guidance, support, and creative ideas in partnership with Dr. Bob on all his life-projects.  
Next stop: The Saratoga Automobile Museum!  Stay tuned for news as we plan a gathering event at The Saratoga where the LIGHT Bus is on display for the year.