Pray — Meditate — Serve
The LIGHT bus is a restored Volkswagen bus, originally painted in 1969 by symbologist, author, and Baltimore artist Dr. Bob Hieronimus. It was restored in 2019 for the 50th anniversary of Woodstock and lives on today in exhibitions around the United States. The original mission of the bus was to spread the benefits of meditation using the Light Meditation and teach the message of service and love to all who see it.
The Woodstock Bus: Now Streaming
In 2018, our friends at Arcadia Entertainment proposed a documentary on the LIGHT bus for the 50th anniversary of Woodstock. To watch the amazing journey, you can now stream the film on Curiosity Stream and Prime Video!
COLLECTIBLE DIECAST MODELS AVAILABLE!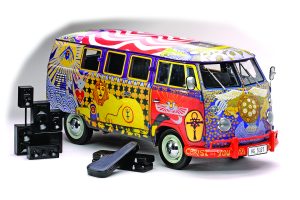 Need the LIGHT but can't fit a full-size bus in your living room?
You can now purchase your own diecast model of LIGHT, The Woodstock Bus! This model is highly collectible – only 3000 were made for for the entire international market, exclusively sold in hobby shops and select toy stores.  A limited supply of 100 are in Dr. Bob's personal collection and can be ordered directly. If you're interested, please email us at lightvwbus@gmail.com for pricing and availability.